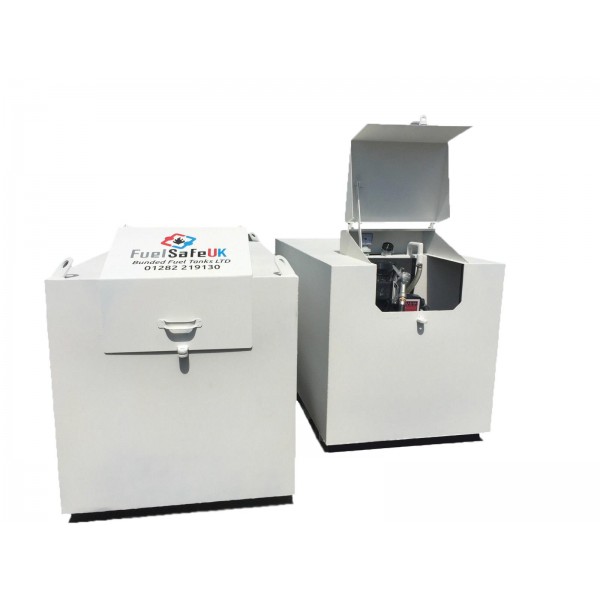 ENQUIRE ABOUT THIS PRODUCT
UK Delivered
We deliver all over the United Kingdom
[DISPLAY_ULTIMATE_SOCIAL_ICONS]
Standard Fuel Safe Package
500 – 5,000 Ltr Fuel Bowser.
Features.
Manufactured in accordance with Oil Storage Regulations 2001
Manufactured to BS799-5and in accordance with ISO 9001:2000.
Lockable Water / Weatherproof cabinet (Pumps/Fittings/Gauges Ect included)
All our Fuel Safe Uk bunded fuel tanks are manufactured from Grade 43a (starting from 3mm minimum thickness)
Lifting Eyes (making mobility access easier and safer)
Forklift Pockets – Ensuring easy and stable manoeuvrability.
Pro Level Fuel float gauge
4m Length Delivery Hose and dispensing gun
Fills & Outlets.
All Fittings/Pipework/Pumping Systems are installed within the lockable cabinet
1″ BSP suction point for pump outlet (Connected to pump prior to Delivery)
2″ BSP fill point – ( Can be used as a 2" suction ppec for direct machine feed)
1″ BSP for   Pro level float gauge
2″ tank to bund Breather.
2" Tank breather.
Pump & Hose.
Our standard package includes our standard 240v/12v/k2 Hand pump.
Our standard 240v Pump includes a 4 Digit meter reader. 12v & K2hand pumps need adding as optional tank extra.
Electrical Fuel pumps
4 Stroke Honda fuel pumps
Hand fuel pumps
All pumps come with an auto-nozzle, apart from the hand pumps which operate a manual trigger-nozzle
Optional Upgrade Package.
Hand Built
We hand build using grade 43A steel, using all UK specifications, requirements and legislations.
Strong and Safe
We use dye pen tests throughout the manufacturing process and pressure tested @ 1.2 bar.
Unlimited Colors
Our tanks are made in our standard blue colour but are available in a variety of colours, just ask.
UK Delivered
We deliver our Bunded fuel tanks all over the United Kingdom, whatever the shape or size you order.