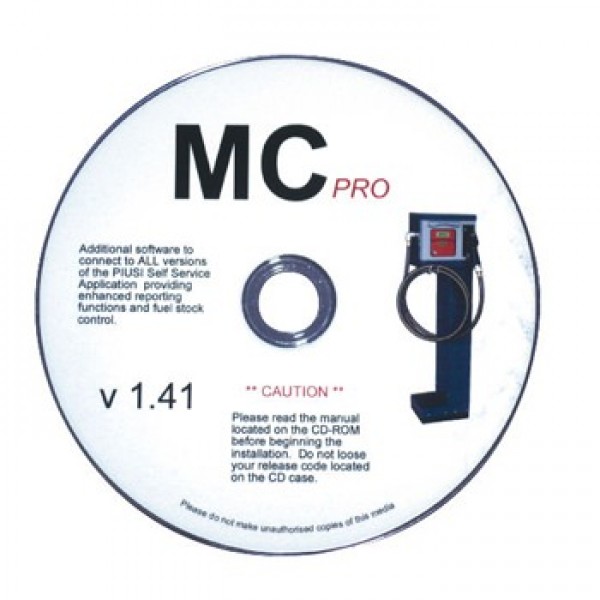 ENQUIRE ABOUT THIS PRODUCT
UK Delivered
We deliver all over the United Kingdom
[DISPLAY_ULTIMATE_SOCIAL_ICONS]
MC Pro Fuel Management Software
For use with Piusi Fuel Management Systems
About the product
The MC Pro Fuel Management Software is an easy to use Windows-based programme, which can be supplied as a supplementary package to the standard Piusi software. This software can be easily added to any existing Piusi fuel management system.
The MC Pro software for fuel management systems incorporates additional user-friendly features that expands on the Self Service Desk software to easily serve the needs of the larger user at a fraction of the cost of many of the more expensive 'high end' systems available.
Functions of this fuel management software include; graphical tank stock monitoring using calculated delivery valves, an automatic fuel usage update, calculated MPG's for vehicles, calculated stock pricing of fuel and detailed reporting by key, code or pump.
Software CD Rom
PDF instruction manual on CD Rom
For Piusi Fuel Management Systems
Hand Built
We hand build using grade 43A steel, using all UK specifications, requirements and legislations.
Strong and Safe
We use dye pen tests throughout the manufacturing process and pressure tested @ 1.2 bar.
Unlimited Colors
Our tanks are made in our standard blue colour but are available in a variety of colours, just ask.
UK Delivered
We deliver our Bunded fuel tanks all over the United Kingdom, whatever the shape or size you order.