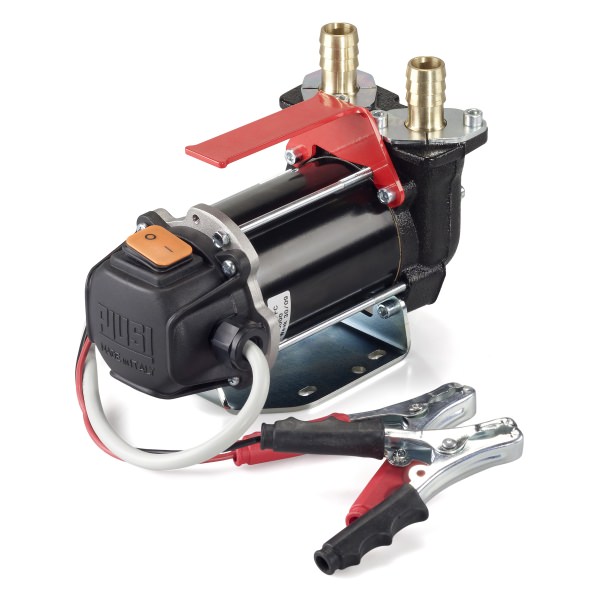 ENQUIRE ABOUT THIS PRODUCT
UK Delivered
We deliver all over the United Kingdom
[DISPLAY_ULTIMATE_SOCIAL_ICONS]
Piusi BP3000 Portable Diesel Transfer Pump
50ltr Per Min (12v / 24v)
About the product
The Piusi Bypass 3000 DC portable diesel transfer pump is a handy dispensing solution, used as a mobile refuelling pump or for general diesel transfer when only battery power is available. Due to their compact size, the BP 3000 24 and 12v diesel transfer pumps are easy to carry and are supplied with a carry handle as standard. 2m or 4m cable and clips are supplied allowing easy connection to the vehicle's battery, making this Piusi pump portable and ideal for agricultural and construction site applications.
Depending upon your installation, this 24v and 12 volt fuel transfer pump is available with vertical ports or horizontal/inline ports like with the previous Piusi Bypass 2000 pump. There are also both threaded and hose tail inlet/outlet versions for you to choose from, providing flexibility in its fitting.
Self-Priming Diesel Fuel Transfer Pumps
Incorporated Bypass Valve
Flow rate: 50ltr Per Min
On/Off Switch
Cable and Clips (2 and 4 mtr options)
30min Duty Cycle
Thermal motor overload protection
Hose Barb Inlet/Outlet Ports
Available with horizontal or vertical ports
Carry Handle
Protection Grade: IP55
Available in 12v/24v
Hand Built
We hand build using grade 43A steel, using all UK specifications, requirements and legislations.
Strong and Safe
We use dye pen tests throughout the manufacturing process and pressure tested @ 1.2 bar.
Unlimited Colors
Our tanks are made in our standard blue colour but are available in a variety of colours, just ask.
UK Delivered
We deliver our Bunded fuel tanks all over the United Kingdom, whatever the shape or size you order.