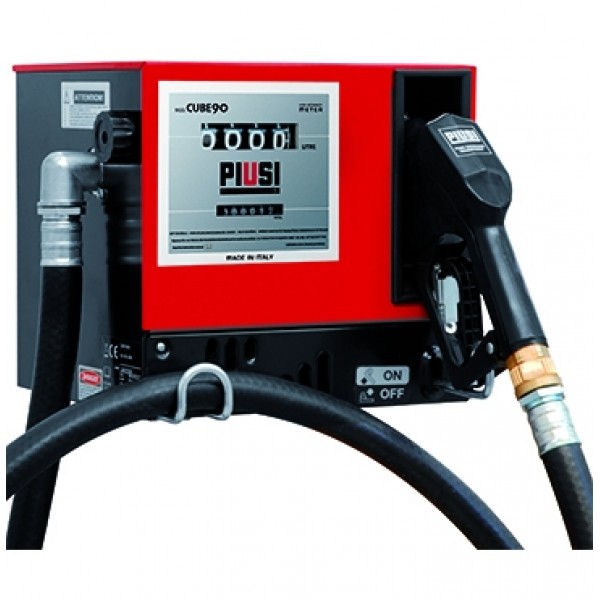 ENQUIRE ABOUT THIS PRODUCT
UK Delivered
We deliver all over the United Kingdom
[DISPLAY_ULTIMATE_SOCIAL_ICONS]
Piusi Cube 90 Diesel Transfer Pump
90ltrs Per Min (230v)
About the product
The Piusi Cube 90 diesel transfer pump has been developed to have a higher flow and is therefore a 90lpm version of the industry renowned Piusi Cube 56 & Cube 70 Fuel Dispensers. Thanks to its quicker dispensing performance, this refuelling pump is designed for filling larger vehicle tanks and therefore, rather than coming with a K33 flow meter, comes wtih a K44. The K44 is a four digit mechanical flow meter used for refuelling large vehicles, where a four digit amount of fuel is more likely to be dispensed in a single transaction. This Piusi electric fuel transfer pump also comes with an Auto 120 nozzle, due to the pump being too quick for use with an Auto 60 or Auto 80 nozzle. This fuel dispenser comes with an in-built nozzle holder with pump start/stop lever, making operating the pump an easy process.
This Italian manufactured Piusi pump unit, allows fast and safe refuelling of large vehicles, whilst measuring the quantites of fuel being dispensed. Similarly to the Cube 56 and 70, the Cube 90 can be installed on drums with the optional 2" quick coupling, or can be mounted freestanding using a pedestal. A wall support kit is also available in order to fit the Cube 90 refuelling pump onto a wall or side of a tank.
Please note: The Cube 90 has a 30 minute on, 30 minute off duty cycle
Fully Enclosed Fuel Dispenser
230v Diesel Transfer Pump
Flow Rate 90ltrs Per Min
Automatic Nozzle
On / Off Lever – Controlled By Nozzle
Incorporated Bypass Valve
4 Digit Flow Meter
4m x 3/4″ Delivery Hose
Protection Grade: IP55 (Internal Motor)
Various mounting options available
30min duty cycle
Hand Built
We hand build using grade 43A steel, using all UK specifications, requirements and legislations.
Strong and Safe
We use dye pen tests throughout the manufacturing process and pressure tested @ 1.2 bar.
Unlimited Colors
Our tanks are made in our standard blue colour but are available in a variety of colours, just ask.
UK Delivered
We deliver our Bunded fuel tanks all over the United Kingdom, whatever the shape or size you order.